Commercial Locksmith Improves Your Business' Security
Running your own business often involves plenty of blood, sweat, and tears. Not to mention long hours and sleepless nights. No matter the type of business you own, there is one thing that will always remain important – security. It's not only your assets that require protection. You also need to ensure that any cash and data are safe as well. The good news is that a
professional commercial locksmith
can help you achieve and maintain the highest level of security so that you can rest easy. An expert knows that security needs to be approached from all angles. In other words, all possible risks need to be addressed. This includes external as well as internal threats. In some cases, the initial financial investment might seem quite significant. However, when you consider the value of the goods that you are protecting,
it becomes clear that it's more than worthwhile
.
Services offered by commercial locksmiths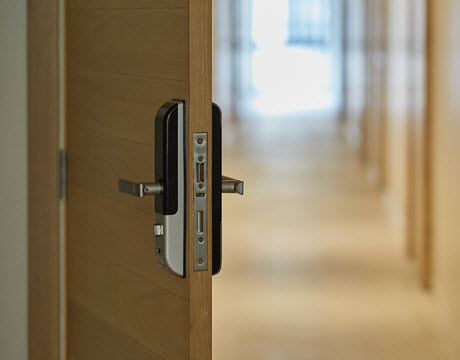 When you hire a
commercial locksmith
, you will be on the lookout for several
specific services
. Many of these will come in handy immediately while others are useful to know in case the need arises in the future.
High-security lock installation:
is a popular service sought out by businesses
throughout Ottawa and all major cities
. Not only are
high-security locks
extremely difficult for thieves to get around, but they are also made from more durable materials.
This means that they will also last that much longer
.
Professional re-keying:
is another excellent service ideal for those who have moved into new premises, recently experienced a
break in
, or if a staff member had to be let go due to certain (
possibly illegal
) activity. Fast assistance for lost keys is a must when you have a business. You cannot afford to leave your business unattended while a key is missing and you cannot wait to have the
lock rekey
or replaced. Professional
commercial locksmiths
are available at the drop of a hat, which means that you can rely on them to arrive quickly and resolve the problem swiftly.
Professional advice:
from true industry experts is priceless. You can spend a small fortune on the lock or security system you think will work best. However, if you are in any way misled by advertisements or you miss the fine print on the product packaging, you could be in for a nasty surprise. Your
commercial locksmiths
will be able to offer essential advice regarding types of locks, the best secure locks, and even the type of safe or safes you should install in your workplace.
24/7 service:
means that you can rely on your commercial locksmith to always be available when needed. Although the initial installation of
new locks is often scheduled
, you may find that you need urgent assistance in the event of a
lost key or attempted break-in
.
Possible internal risks
When we think about
commercial security
, we usually think about preventing intruders from entering our property. However, there is always the possibility of
internal threats
and they should never be ignored. As a business owner, you don't want to make all of your employees feel like they are not trusted. At the same time, you need to make sure that you are
covered and protected
. You are bound to let staff go from time to time and
some may even quit
. It's when a staff member leaves your company that you need to consider just how much access they had to your
information and anything of value
. You can get a locksmith rekey your doors, or you can ask your commercial locksmith for their suggestions regarding a system that will be easy to modify or change (
like the punch code system
).
Protecting all your assets
A threat can come from anywhere. In some cases, you could notice the intrusion immediately
due to a broken door
. In other cases, the thief is far more cunning and is able to steal anything from valuables to data
without you even realizing it at first
. The type of security you need will depend on your business. For example, a store that sells expensive jewelry will need a tough security system with the
strongest locks, an alarm, and security cameras.
If you have important documents that need to be stored away safely, or if you have a significant amount of cash on premises at any given time, then a robust safe is what you need to keep these items secure. You might even need certain rooms or offices fitted with specialized
high-security lock
s in order to limit access to certain employees only. These are all things you can discuss with your
commercial locksmith
and they can draft a full security plan to ensure that your needs are taken care of. For Ottawa commercial locksmith you can trust, call
Capital Locksmith
at
(613) 457-5135
.