Essential Locksmith Services That Every Property Manager Needs
Every property manager needs a
reliable and reputable locksmith
in their corner. You may not require their services every day or even every week. However, when you need a
locksmith Ottawa
, quality workmanship and dependability are essential. When searching for the right locksmith to handle your needs, you should be on the lookout for the following:
Professional Lock Replacements
As a property manager, you will need the locks on your premises to be changed from time to time. Whether you are welcoming a new tenant or your locks are due for replacement, a professional locksmith will help you get the job done right and offer the peace of mind you deserve.
Locksmith experts
are trained, certified and insured which means that you can hire them with confidence. Necessary steps are also taken to verify the identity of the property owner before any work is done. If your locksmith does not request such documentation or information, it is a red flag.
Emergency Locksmith Services
When choosing a
locksmith Ottawa
for your commercial property needs, it is important that they are available around the clock. Locksmith emergencies can occur when least expected and at the most inconvenient times. If your locksmith is not able to offer
24/7 service
, you should look elsewhere. You can also let your tenants know who your trusted locksmith is so that they can contact them directly in the event of an emergency.
Lock Rekeying
It is not always necessary to have your locks replaced. If the lock is in perfect shape and it offers sufficient security, rekeying is all that will be required when a tenant leaves or when a new tenant moves in. It is important to at least have your locks rekeyed in order to prevent any previous tenants from accessing the property once their lease is up. It also offers new tenants great peace of mind, knowing that if any copies of old keys were made, they will no longer work on the rekeyed locks.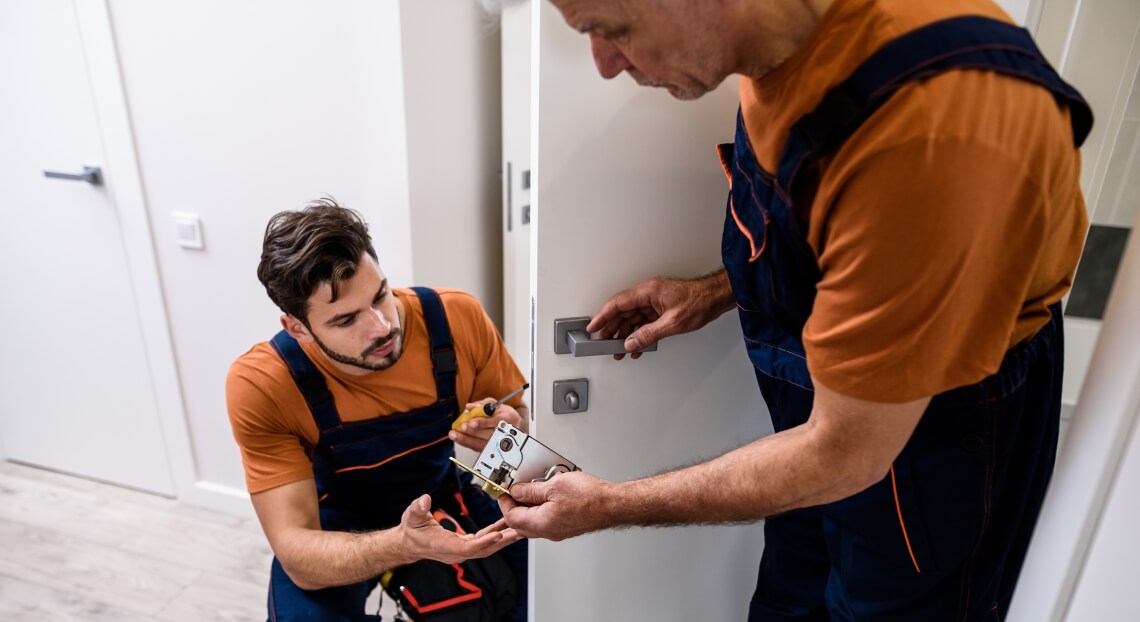 Master Key Systems
If you are renting out a commercial property, you may prefer investing in a master key system rather than separate keys for every door. A
master key system
should always be installed and managed by a
trained locksmith
. These systems make it easier for the tenant to limit access to various parts of the property based on the clearance level of each employee.
High-Security Locks
You can make your property or properties that much more appealing to tenants by offering maximum security. The safer your property, the more likely you are to attract prospective tenants. Not to mention the fact that you can up your monthly rate just a little to compensate for these locks and lock maintenance. There are various types of
high-security locks
. Make sure that your locksmith is trained and certified in this area. You should also discuss all of your options with them and look for the best long-term solution since you do not want to end up replacing them anytime soon. When it comes to high-security locks and systems, quality is essential.
Replacement Or Additional Keys
If a key is lost, the lock should be rekeyed or replaced. However, if the key breaks and the lock is still in perfect working order, you can ask your locksmith to simply provide a replacement key. As the property manager, you also need to have extra keys. This means that you will need to have a set made for each of your properties. A reliable locksmith will be able to assist you with this. When choosing a
locksmith Ottawa
, make sure that you take the time to find out more about their services as well as their reputation. Not only do you need to ensure the security of your properties, but also your tenants. At
Capital Locksmith
, we offer a
full range of expert services
to keep your properties secure.
Contact us at
(613) 457-5135
to find out more about how we can help you.