Lock Replacement vs Lock Rekeying
If you have ever moved, or someone else has moved out of your home that you would rather not have easy access to your home, you may have considered changing your locks. However, you are not just limited to changing your locks, you also have the option to rekey them. Before you make the decision, you should understand both so you can make an informed decision when calling a locksmith. 
Through this article, we are going to explain exactly what lock rekeying and lock replacement is and when you should choose one over the other. 
Rekeying locks
When a lock is
rekeyed
, the pins and springs in the lock cylinder are removed and replaced so the lock will work with a new key. Any lock that isn't broken or malfunctioning can be rekeyed and should work just as well as they had previously. Rekeying locks is a cost effective way to ensure that your keys only accept a certain key or if you want all of the locks in your home to accept one key.
Why Rekey Your Locks?
There are a few reasons to choose lock rekeying instead of choosing to simply replace your locks entirely.
If you enjoy the locks you already have but have lost your old keys or they no longer work. 

If you have recently moved into a new place and don't want any past residence to be able to unlock your locks. 

You lost a copy of your key and fear someone may use it and enter your home. 

Prevent someone who you lived with previously to no longer be able to enter. 

If you would like a single key to unlock all of the doors in your home.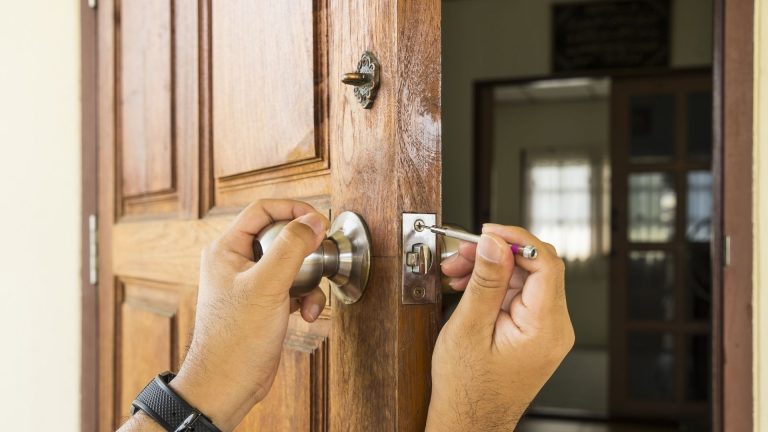 Replacing locks
There are some circumstances when
lock replacement
is necessary. Over time locks can wear and stop functioning as they should. In these cases, you will have to have your locks replaced entirely. Also, there are times when you should just update your old locks to ensure that they are not out of date or not working as well as they should. When you consider how your locks are protecting your family or business, it's no wonder why you would want to regularly update your locks and improve overall security. 
Why Replace Your Locks?
There are some scenarios that will require you to entirely change your locks rather than simply rekey them.
You are looking to change up the design or colour of your lock.

You old locks are unsightly due to rust and old age. 

You want to improve the security of your property.

You want to upgrade your locks to electronic locks so they work with your other electronics. 

You have different locks throughout your property but want them to match so you only have to use one key. 
As you can see, the choice of rekeying or lock replacement comes down to your certain situation and what you want. There is no definitive better option as they both tend to different problems you may be having with your locks. It is important to have a good grasp on what exactly rekeying and lock replacement is so you can make the right decision when you lose your keys, you lock stops working, or any other lock related issues. 
When you need professional
lock rekeying
or
lock replacement
services, give Capital Locksmith a call. We offer our services to both residential and commercial locks. We also offer lock repairs and installing new locks for your residential and commercial space. Call us at (613) 457-5135 for 24/7 Ottawa locksmith services.