How A Residential Locksmith Can Make You Feel Safer At Home
Your home is where you relax, spend time with your loved ones, entertain guests, and make wonderful memories. It's your personal sanctuary and, as such, you should feel safe inside it. Unfortunately, due to growing crime concerns, it takes more than a simple locked door to keep intruders out these days. Thieves have become
increasingly resourceful
when it comes to their techniques, and they are quicker than ever. The good news is that residential locksmiths are on your side when it comes to your safety and security. We have answers to your 'how do I feel safer at home' question and the answer is to get a
residential locksmith
to take a look at your home locks and upgrade them.
Secure locks
High-security locks are often seen on commercial buildings. However, if you live alone or if you simply feel the need for a greater level of security, these locks could be just what you need to rest easier at night. For those who run businesses from home,
high-security locks
will help you keep your home and
business assets safe
. These locks are more complex which means that they are extremely difficult to break or workaround. In many cases, the mere sight of these
locks is enough
to keep burglars away. This is mainly because they know it takes a substantial amount of time to break in and, in most cases, they are not even successful. Thieves are looking for a fast in and out so that they don't run the risk of getting caught.
Home security advice
[caption id="attachment_1110" align="alignright" width="460"]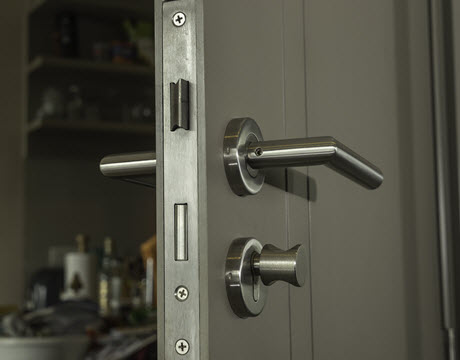 residential locksmith experts in Ottawa[/caption] Residential locksmiths have amazing insight when it comes to
local crime rates
and the most popular methods used by thieves. They know which kinds of locks are tougher to break and which ones prove easy for experienced burglars. With this in mind, your locksmith can offer expert advice regarding the
best locks
and
security systems for your home
. Not only will they tell you which locks are best, but they can also offer
full home safety recommendations
. Remember, your doors are not the only possible points of access. Windows also need to be secured and trees that allow access to
upstairs windows
or balconies can also help facilitate a break-in.
Professional advice
If you have ever so much as browsed the internet for a safe, you will know just how many different types there are. With so many choices, it can become particularly confusing. Some safes are designed to keep
thieves from getting their hands on your valuables
. Some are specifically made to protect against fire. There are even special safes for storing
items like hard drives
and they are great for keeping your backed up digital photos safe. Some
safes
are designed to offer more than one benefit. For instance, they protect against fire and burglars. It's not just about the
lock system
, it's also the type of materials used to make the safe itself. So, be sure to discuss your needs with your
residential locksmith
and remember to always invest in a safe that is larger than you think you need. This is because of the simple fact that you never know what you might want to store in your safe later on. You might have a fairly short list for now, but if your
jewelry collection grows
or if you have yet another important file or set of documents that need to be safely stored, a larger safe will be more than worth your while.
Key or lock replacement
It's just one of those facts of life – keys go missing and locks eventually need to be replaced. When a
key goes missing
, you may need to call a locksmith to help you open the door. Since you never know where the key may have ended up, you should have the
lock replaced urgently
. If a lock is broken or faulty, your local locksmith can replace it quickly so that you don't have to leave your home
unlocked and vulnerable
.
Emergency locksmith services
When you move into a new home, the first thing to do is to replace the locks. This way, you can rest assured that nobody has any keys that could grant them access to your home. Other than replacing your locks after the initial move, it's worth keeping your locksmith's number on hand in the event of an emergency. This includes broken or lost keys and broken locks. Emergency locksmith services mean that your residential locksmith will be at your door within minutes and
they are available 24/7
. In other words, you don't need to risk sleeping with a faulty lock on your front door when you can have the problem fixed right away. At Capital Locksmith, we offer
24/7 service throughout Ottawa
. When you need a reliable residential locksmith, you can depend on
our trained and experienced team
. Call
(613) 457-5135
for
specialized locksmith services
you can trust and essential expert advice to help you keep your home safer than ever.