Upgrade Your Commercial Lock to Enhance Security
We all know that
running a business
isn't easy as you have to carefully control the costs to gain profits. However, securing your business is one of the essential investments you will have to consider as any break-in could lead to uncountable damages to your property. As
the need for security is greater than ever before, we believe investing in a more advanced
commercial lock
is a great choice for any business owner. If you have an old commercial lock which has stood for years, we recommend you install a new
smart lock
which will bring enhanced security and enormous convenience to you.
We will use the
Kaba E-plex 3000
smart lock installation in Ottawa as an example to explain the detailed benefits you will have after replacing a traditional lock.
-Appealing look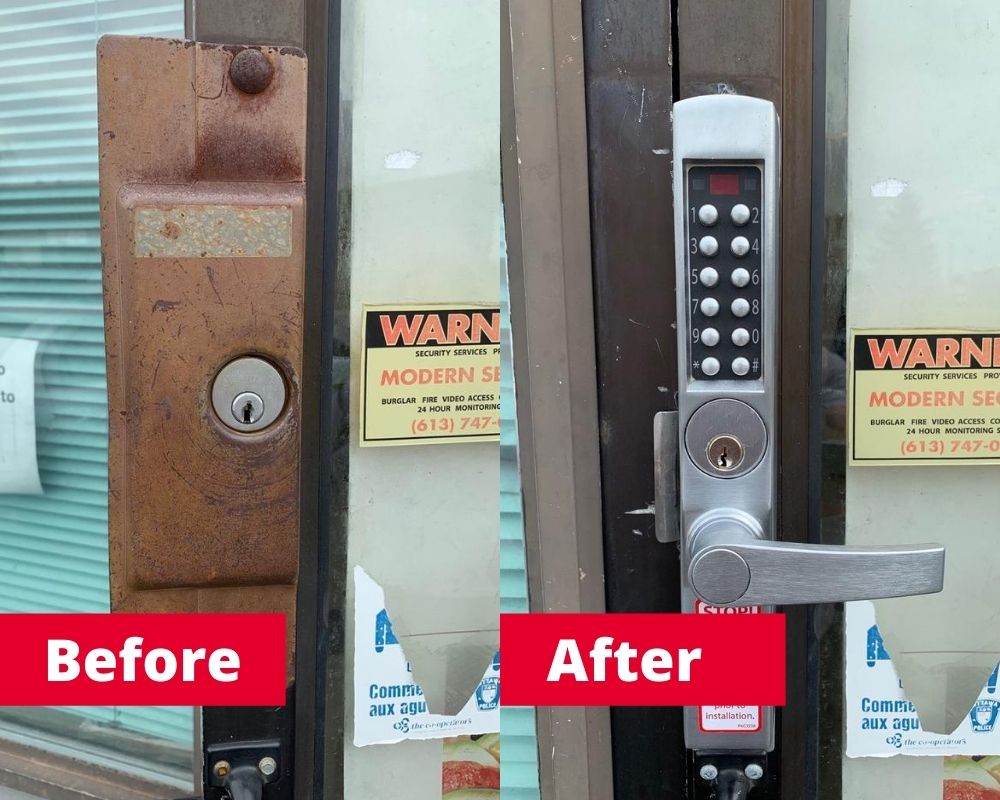 Replacing the old lock with a new smart lock will lead to a more polished look for your business as you may notice from the above photos. The Kaba E-plex 3000 could be easily retrofitted for steel doors, which means it only requires simple installation and programming. Once it is done, you will be able to enjoy the convenience without further maintenance. If you need to reprogram, you can just use the keypad.
-Avoid copies of the key
It is common to hire part-time workers for small businesses, but it will become dangerous to give keys to people who only work a couple hours a week. You can not know if anyone makes a copy of the key. So the best thing to use a smart lock is that you can assign specific passcodes for each employee. When anyone leaves your business, you can just disable the passcode, and the previous employee will never be able to access your business any more.
Furthermore, the Kaba E-plex can even record the date and time of recent entries to monitor the activities of your business, giving you peace of mind anytime.
-Automatic lockout for unauthorized attempts
Unlike traditional locks which allow people to make unauthorized attempts, smart locks will automatically trigger a lockout if someone tries several unsuccessful attempts. In this way, you will be nicely protected against burglary.
-Passage modes
It can be easily scheduled to auto lock after you close the door or to
relock after a certain number of hours, so you don't have to worry if you forget to lock your business in the future.
-Pre-schedule for holiday blocks
You can even try to use the advanced features of scheduling holiday/vacation blocks to plan ahead. Sometimes you may be away for a while. With the smart lock, you know your business will be securely locked without worrying whether an employee forgot to do so.
There are a lot more advantages with the smart lock, and it is always recommended to hire a
professional locksmith
to explain the full benefits to you. Commercial locks can be more complicated than residential locks, so a professional locksmith can make sure that the smart locks will be properly installed and programmed to ensure the long term performance.
Capital Locksmith
offers 24/7
professional, reliable and affordable locksmith services
across Ottawa and the surrounding area. Our licensed and experienced technicians will address all of your concerns and make sure your smart locks function well to protect your property. For more advice and assistance
call Capital Locksmith at
(613) 457-5135
.
Book now
!